COVID-19 and Our Community
We now have a dedicated page for detailed Covid-19 information and resources.
In the coming weeks and months many of our neighbors are going to be adversely affected, some severely, by either the virus, the economic downturn or both.
In lieu of our Royalton Community Radio/WFVR-LP fund drive, we are asking our listeners to consider supporting one of the organizations that will be providing community support for those affected by the Covid-19 virus.
The Town of Royalton website offers daily updates.
A comprehensive, crowd-sourced list of Vermont Covid-19 resources can be found here.
For more information about how you can connect to community resources, or volunteer to help, VT Digger is maintaining a website with helpful information.
For the most up-to-date information about Covid-19, please visit the Vermont Department of Health Covid-19 page here, or the Centers For Disease Control and Prevention (CDC) page here.
The CDC also has this page of resources for managing stress during a disaster or traumatic event.
Mutual Aid Networks in the WVFR Listening Area
Royalton Mutual Aid Hotline: Call this number for help, local information, and if you want to volunteer to assist your community 802-234-1257, or send an email.  Visit the BALE website for more information.
Randolph, Braintree, and Brookfield area. Resources can be found on the RACDC website here.
Chelsea, Vershire, Corinth, Tunbridge, Washington area. To sign up to volunteer, or if you are in need, click here.
Bradford area. To volunteer, click here.
Thetford Area Emergency Management Covid-19 resources are here.
Royalton Community Radio T-shirts Available!
Support Royalton Community Radio by wearing our unique Black t-shirt.
Just email
info@royaltonradio.org
with your size preference and number of shirts and we'll get right back to you with Payment/pick-up instructions.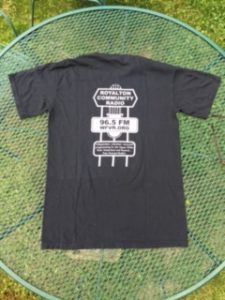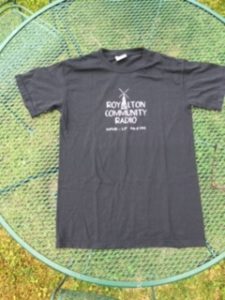 Support Royalton Community Radio!
Member Appreciation a big success!
Royalton Community Radio sends out a big THANK YOU to all of our members, volunteers, musicians, Upper Pass Beer Company and our overall local community who made our 9/26/20 Member Appreciation Day such a success!
Pedal Power to the People
Courtesy: John "Two Scoops" Duffy and Kevin Rose

Vermont breweries make 'Black is Beautiful' beer
WFVR Presents: "WBCN and the American Revolution"
Rent and screen this award-winning documentary and help support WFVR at this critical time!
The film will be available for online rental and screening for $8.00 for a three-day rental.
"WBCN and The American Revolution" is the new, landmark rock 'n roll documentary that tells the incredible, true story of the early days of the radical, underground radio station, WBCN-FM. The inspiring film is set against the dazzling and profound social, political, and cultural changes that took place in Boston and nationally during the late-1960s and early-70s, and is filled with rare and original archival audio and video. Produced and directed by Peabody Award-winning filmmaker Bill Lichtenstein.
As we unite to support one another during the COVID-19 crisis, 50% of the proceeds from the screening of this exclusive digital release will support WFVR.
Enjoy this new award-winning documentary and support this historic film and event venue now!
WFVR programmers at a November event at the Arnold Block in Bethel, VT. This is 15 of the 33 active programmers at the station.
Row 1: Dave Wrong, Courtney Collins, Paige Beyer
Row 2: Bill Murphy, Peter Neri, Lee Raiken, Scott Duffy, Jamie Gage, Kris Ekstrand
Row 3: Betsy Gaiser, Josh Brown, Bob DiBartolo, Todd Tyson, Ty Gagliardone, Steve Gagliardone
Democracy Now! comes to WFVR!
WFVR/Royalton Community Radio now airs Democracy Now! at noon on weekdays.
Democracy Now! is a daily, global, independent news hour anchored by award-winning journalists Amy Goodman and Juan Gonzalez, Democracy Now! presents daily headlines followed by in-depth discussions from a rich diversity of people and perspectives rarely heard from in mainstream media.
Guests include international journalists, scholars, scientists, authors, analysts, artists, filmmakers and ordinary people who are most affected by news events in the US and around the world.
New local shows at WFVR!
"Cascadian Ranger's Radio Hour" hosted by Mark Hehlen, will air on Wednesdays from 9-10pm. This themed musical variety show will dip into science, politics, history, religion and folk-life infused with the host's Pacific Northwest sensibility with reference to the urban/rural and east coast/west coast divides.
How Sweet It Is . . . Ross McGee is back on the air with "How Sweet It Is: a Night of Jerry Garcia" on Tuesdays, from 7-9pm (the old Help on the Way time slot).
Ross, co-host of the former Grateful Dead show here at WFVR, Help On The Way, describes his vision for the show:
"The show is focused around the music of Jerry Garcia - mainly focusing on Jerry's side gigs such as the Jerry Garcia Band, Old and In The Way, Jerry and David Grisman and Jerry and John Kahn. I'll also throw in some Grateful Dead stuff every once in a while, but I really want this show to focus on all the other musical endeavors that Jerry dipped his toes into."