Royalton Community Radio T-shirts Available!
Support Royalton Community Radio by wearing our unique Black t-shirt.
Just email
info@royaltonradio.org
with your size preference and number of shirts and we'll get right back to you with Payment/pick-up instructions.
Support Royalton Community Radio!
New: Backroads Bluegrass & Beyond T-shirts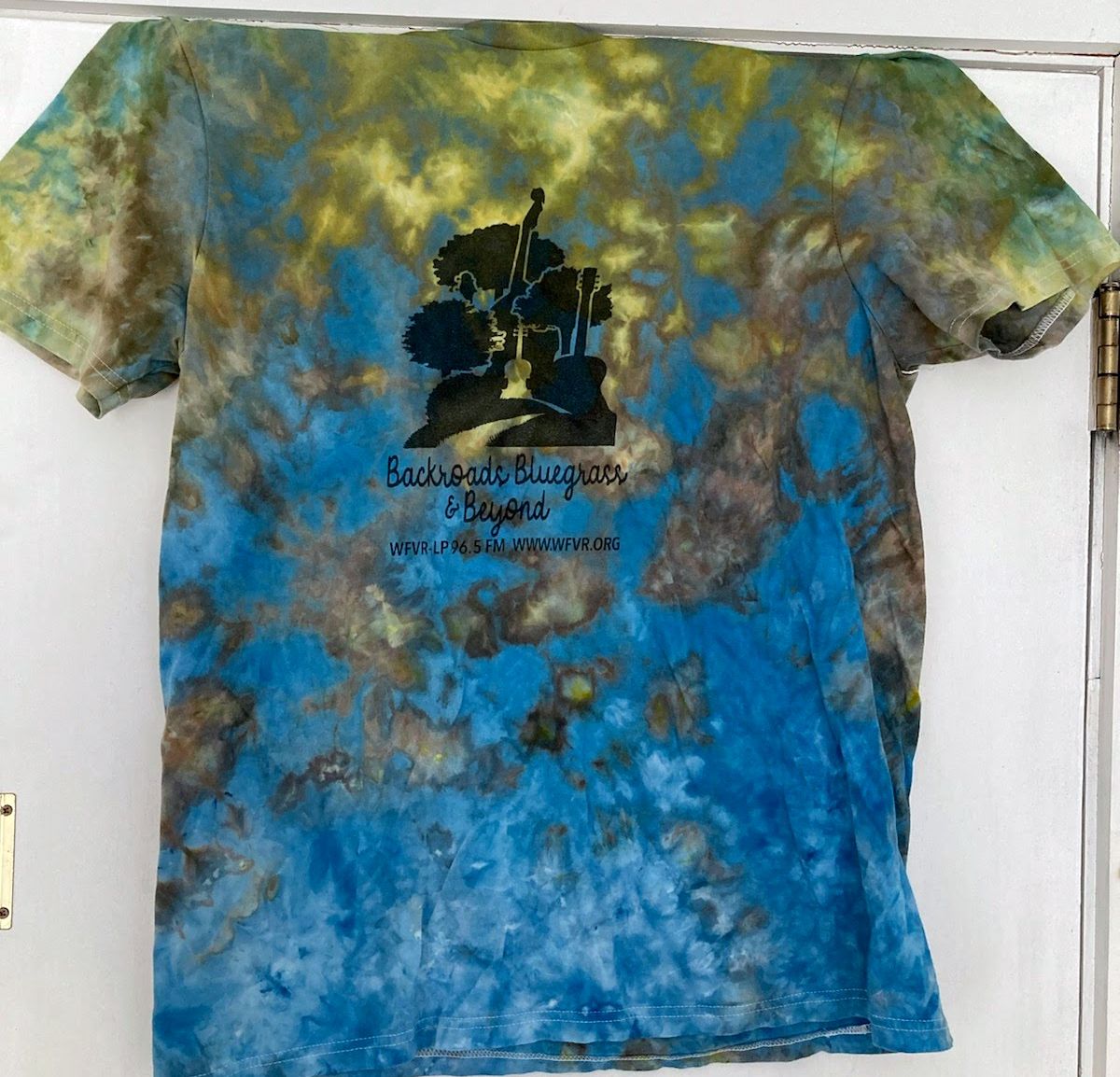 Available in XL and Medium
Order yours by sending a check for $25 made out to Royalton Community Radio and mailed to RCR, P.O. Box 281, South Royalton, VT. 05068
Free Vermont Radio welcomes two new shows!
WFVR-LP welcomes two new RadioLadies to our air/stream waves: Ellie Denison and Cindy Vermette. Ellie's "Comrade Radio" can be heard on Mondays from 3-4PM and features an amazing breadth of social protest music and commentary.
Cindy's "CV's Theme Park" is presented live every Tuesday from 1-2PM featuring a creative single theme each week whether it be food, road songs, geography etc…
"Comrade Radio" is rebroadcast on Fridays at 9PM and "CV's Theme Park's" rebroadcast follows immediately on Fridays at 10PM. Both shows can be listened to anytime
at our Replay tab.
WFVR-LP on-air staff:
Shay Berry (The Rabbit Hole), John Scott "Two Scoops" Duffy (Hannah Handy & Me, The Blues Train), Lizzie Curran (Get Up, Stand Up), Carl Neuman (Wednesday Morning Breakfast Club), Tim Murphy (One Planet Groove), John "Boomer" Lanza (Sunday Night Flashback), Todd Tyson (The Elephant's Dream, The Blues Train, GreenZine), Paul Kifner (Monday Morning Mix), Jim Rooney (In It For The Long Run), Kris Ekstrand (Northern Lights), Ralph Molinario (Backroads Bluegrass & Beyond), Pat Halpin (Wrote A Song)
Not Pictured:
Rebecca Beguin (In My Bones), Russ Martin (Backtracking), Bob DiBartolo (Classic American Radio, Friday Morning Mix), Ross McGee (How Sweet It Is: An Evening of Jerry Garcia Music), Thom Healy (Concert Music Safari), Jeremy Frost (Red Barn Radio), Peter Marshall (Middle Branch Blues), Bridgett Taylor (Community Chat), Patrick Schlott (The Linear Region), Josh Brown (Nocturnal Combustion), Matt Adams (Made in America), Henry Swayze (GreenZine), Christina Strong (The Lo-Fi Revolution), Corey Cogler (Binge Listening with Corey Cogler)