Royalton Community Radio T-shirts Available!
Support Royalton Community Radio by wearing our unique Black t-shirt.
Just email
info@royaltonradio.org
with your size preference and number of shirts and we'll get right back to you with Payment/pick-up instructions.
Support Royalton Community Radio!
Concert on the Green Friday, July 23
Free Vermont Radio will present The Mammals in concert on Friday, July 23rd at 7PM on the South Royalton Green.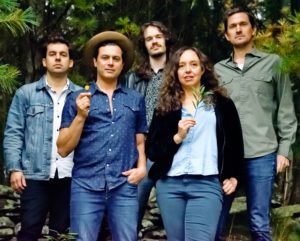 Hailing from New York's Hudson Valley region, The Mammals have been touring the States for nearly 20 years with multiple recording credits including their latest album "Nonet" that received very positive reviews from respected music critics.
Attendees are welcome to hang out anywhere on the Green for this special event with the "entry gate" to the Upper Pass Beer Garden opening at 6PM. WFVR will have staff at the gate who will be happy to receive a suggested donation of $15 to help offset the guarantee for the band and other related expenses.
This is a rain or shine event and remember that there is a "No Dogs" policy in place for The Green. Any questions can be directed to
info@royaltonradio.org
.
2021 Pedal Power to the People
Free Vermont Radio/WFVR-LP aka Royalton Community Radio is Psychled to announce this summer's 8th Annual Pedal Power to the People gravel grinder benefit for our community station! We will be hosting 2 separate dates this year with the first being on Saturday, August 21st * at the Tunbridge Fairgrounds in conjunction with NanoFest featuring several local nano breweries and live music from RCR's Mobile stage.
* First 30 entries for this date get free admission to NanoFest.
The second date will be Sunday, September 12th with a start (like last year) from the Green in South Royalton. This ride will conclude back on the Green with an "invitation" to the Upper Pass Beer Garden where your 1st can o' Hops is on the house!
Free Vermont Radio welcomes two new shows!
WFVR-LP is pleased to welcome two "new" shows to our community radio airwaves: "Red Barn Radio" hosted by Jeremy Frost and "The Rabbit Hole" hosted by Shay Berry.
Jeremy is a returning alumna of the station with Red Barn Radio which often targets a specific theme or genre of music for it's one hour of diverse broadcasting. RBR now airs on Wednesdays from 7-8PM with a rebroadcast Fridays at 11AM.
Shay brings a wealth of musical knowledge to his new show "The Rabbit Hole" which will take the listener to many eclectic stops on the expansive music continuum. You ponder...then get ready to wander down "The Rabbit Hole" every Wednesday from 8-9PM with a rebroadcast on Sundays from 2-3PM.
Programming News ...
The Middle Branch and Cascadian Ranger Radio Hour are trading days.
Cascadian Ranger Radio Hour, starting with March 16, 2021, will air on Tuesdays at 9pm. The Middle Branch, starting with March 17, 2021, will air on Wednesdays at 9pm.
In concert with this change, The Middle Branch will become Middle Branch Blues. Rebroadcasts of both shows will be unchanged.
WFVR programmers at a November event at the Arnold Block in Bethel, VT. This is 15 of the 33 active programmers at the station.
Row 1: Dave Wrong, Courtney Collins, Paige Beyer
Row 2: Bill Murphy, Peter Neri, Lee Raiken, Scott Duffy, Jamie Gage, Kris Ekstrand
Row 3: Betsy Gaiser, Josh Brown, Bob DiBartolo, Todd Tyson, Ty Gagliardone, Steve Gagliardone